With Gratitude. It is a great honor for us to publicly recognize our remarkable donors and the extraordinary blessings they bestow upon the world through their support of The World Prayers Project. Their selfless giving helps to keep the World Prayers website online and available for free to everyone who visits.
If you would like to learn more about becoming a supporting donor, please visit our donations page.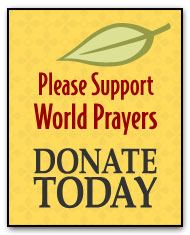 Our 2013 Donors.
Patricia R. Guyton
Gina E. Leslie
Susan L. Drescher-Mulzet
MorningStar Leon
Pastor Dan Lozer
Shirley Vickery
Amy Dauer
Sara Hubner
Rashawn A. Goulbourne
Anonymous
Jody & Cindy Baxter
Anonymous
Claudia L'Amoreaux
Our 2012 Donors.
Suzette D. Tardif
Thomas Muravez
James Mckuhan
Kateyanne Unullisi
N. A. Linnell
Pastor Dan Lozer
C. Madeline Mitchell
Sara Hubner
Ms. Houston
Kristin F. Karpen
Patrick E. Courtney
David Robinson
Helen Mlynarski
Jody & Cindy Baxter
Lucy Turner
Patrick & Karen Dugan
Vinn Marti
Bonnie Bradley-Juarez
Patrick Dugan
Suzette D. Tardif
Wolff A. Schweitzer
Marilyn Matevia
James Mckuhan
Eileen Bourgeois
Paul Collier
Daniel Colombo
Gloria Walker
John Simon (Mainstreet Media)
Susan Cummings
Barbara Harris
Sharon Montes
Anne Clare
Lister Bowdoin
Judy Wafer
Douglas M. Finney
Anne Cassia
Nayan Shah
Pat Honszer
Donations in Tribute.
In Memory of Jeanne L'Amoreaux - by Claudia L'Amoreaux
In Honor of Marie Elizabeth Finamore - by Susan L. Drescher-Mulzet
In Memory of Angels M. McDonald - by Douglas Finney
In Memory of Albert Bargiel - by Douglas Finney
In Honor of Pigeon Hundley - by Emily Linderman
In Memory of Dara Dalisay - by Cheryl Galema
In Honor of Natasha Williams-Block - by Jacqueline Williams
In Memory of Stephanie Lee - by Katherine O'Shaughnessy
In Memory of Annie Belle Valle Cotsonis - by Carol Cotsonis
In Honor of Nanci Moll - by Kathy Moll
In Honor of Lucy Dowding - by Sharon Sparks
In Memory of Barry Mineah - by Kristin Mineah
In Honor of The World Prayers Volunteers - by Linda Burns
In Honor of Michele Ritan - by Cindy Lutenbacher
In Memory of Lawrence Ronald Rogers - by Shelly Rogers
In Honor of Mary Kirchner - by Tim Kirchner
In Memory of Frances Tyler Woods - by Sally Woods
A note to our donors: If we have forgotten to list your name or you wish to opt-out from having your name published on our donor page, please contact us.