Website Introduction. The objective of this website is to gather the great prayers written by the spiritual visionaries of our planet into an online database representing all life affirming traditions.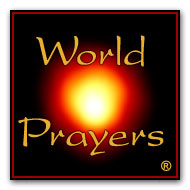 Many of these prayers have been used for hundreds if not thousands of years. Others are from spiritual contemporaries in today's intricate global fabric. Though these sacred verses arise from divergent paths, voices, languages, cultures and heritages, they all carry within them the same burning flame - the same impassioned love for life and the divine mysteries.
A comment from the Dalai Lama on religious diversity.
Guiding Principle. The World Prayers archive attempts to be representative of all life affirming faiths and spiritual practices without preference to any one. It is our goal to make these great words available to everyone for study and appreciation. The prayers have been intuitively divided into four categories for the purpose of organization and navigation.
ADORATIONS


Prayers of devotion, surrender, love, praise and offering.

CELEBRATIONS


Prayers of thanksgiving, initiation, affirmation and blessing.

INVOCATIONS


Prayers of petition, supplication, calling forth and healing.

MEDITATIONS


Prayers of reflection, contemplation, being and teaching.
Instructions. Clicking on any of the four category links surrounding the borders of the main browser window will return a RANDOM prayer from the chosen category. You may navigate through the prayers in this spontaneous and casual way or you may SEARCH the collection by religion, author, keyword or phrase. The prayer INDEX allows you to easily browse through the prayers by category or religious tradition.
Prayer Wheel. For a quick inspiration, try out the World Prayers - Digital Prayer Wheel. See How it Works
Facebook. A special feature called, "One to Share ..." is now available on our Facebook page. Learn More
News Updates. For a behind the scenes look at our work, including recent announcements and annual reports. Visit Our News Section
Copyrights. © The World Prayers Project. All rights Reserved. Copyright & Permissions Info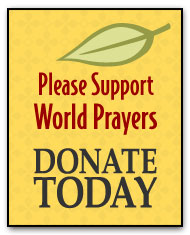 Donations. The continued development of this project depends entirely upon the financial support of the public. Your Help is Essential !!!
Nonprofit Status. The World Prayers Project is a 501(c)(3) nonprofit public charity registered in the State of California. All donations are tax deductible.
Linking to this Website. If you wish to add our link to your website please read this additional info. Site URL & Description
Logo Photo Credit. Our logo includes a brilliant, ultraviolet image of Betelgeuse, a red supergiant (M2 Iab) star in the constellation of Orion the Hunter. The image was captured using the Faint Object Camera on NASA's Hubble Space Telescope, March 3, 1995. Hubble Site
Acknowledgements. We offer a special thanks to everyone who has helped in the creation, support and encouragement of this website. And our deepest gratitude goes to the many sources and inspirations of these remarkable prayers.